---
MR\VP 4..15K
Generator "Solid State": MRVP 4K-IGBT - MRVP 8K-IGBT - MRVP 10K-IGBT - MRVP 15K-IGBT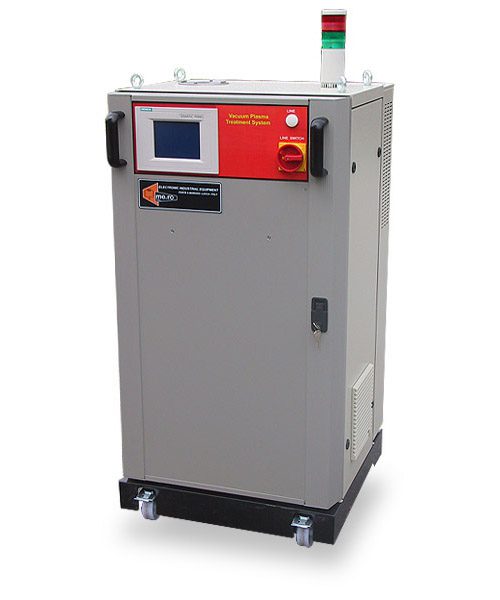 This type of generators represent a new industrial standard for applications
in under vacuum metallizing chambers.
The configuration of the power circuits.
The cooling by air (the system does not need any cooling by water,
avoiding all the problems may arise with this type of cooling)
The construction completely with solid-state components.
A modern Touch Panel used for the control of the generator, of the energy applied to the plasma chamber and for the management of the Mass-Flow-Control.
Are all requisities that position these equipments ahead for this type of applications.
MAIN FEATURES
High efficiency thanks to the configuration of the power circuits and the use of IGBT modules
Electronic protection short-circuit proof in the inverter power modules
Electronic protection in case of accidental overloads inside the plasma chamber
Air cooling (the system does not need any cooling by water, avoiding all the problems that may arise with this kind of cooling)
Automatic matching to the varying load conditions (When used in automatic mode, the applied energy density is kept stricfly constant even in presence of variation of vacuum grade or when the quantity of gas injected varies)
Universal supply voltage 3×380-415-440 V (without need for a network transformer)
Construction according to EN-60204-1
Electromagnetic compatibility (EMC) in accordance with norms EN-5511 and EN 50082-2
Monitoring, display of work magnitudes and alarm signalling by special operator terminal Touch Panel.
---
---