---
MR/GST 2k IGBT RA
Cap sealer model MR/GST 2K-IGBT RA (Water less)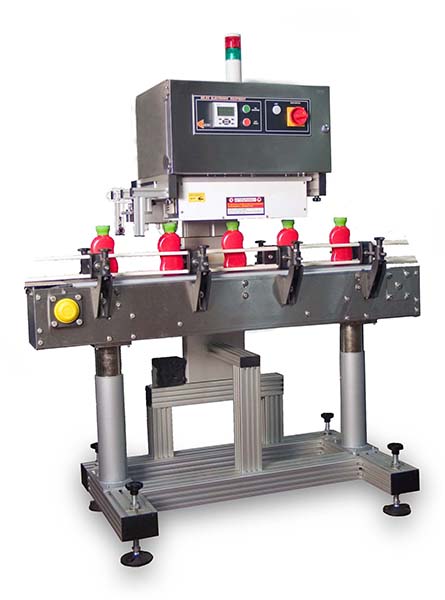 Finally a system that can free the enduser from the use of cooling water. A special design of the induction head infact eliminates the need of water for cooling, giving you a sealer easier to install and very economical.
MAIN CHARACTERISTICS
High sealing performances until conveyor speed of 35 m/min due to the special design of the induction heads.
Possibility to seal cap diameters between 20 and 120 mm of any shape.
Easy to use terminal operator to display operating parameters and alarm signals.
Measuring system for foil absorbed energy.
Quick production change thanks to the motorized variable height column.
Easy changing of induction heads: a special construction allows a change in a very short time.
Compact construction for easy installation on existing filling lines.
High efficiency thanks to the configuration of the power circuits and the use of IGBT modules.
Output power strictly constant due to the regulation circuits.
Absolute absence of cooling water inside the generator box in contact with electrical parts.
Alarm signal in case of output power variation from the pre-set value.
Start-Stop remote control.
Manufactured in accordance with EN-60204-1 standard.
Electromagnetic (EMC) compatibility in accordance with EN-55011 and EN 50082-2 standards.
OPTIONALS
RAC system (antiaccumulation device).
RMA system (stalled container detector).
System of power regulation proportional to the speed of the conveyor.
Alluminium foil detector.
Motorized column adjustable in height.
Belt conveyor for the containers.
Ejection system for faulty containers.
Under pressure version to work in dangerous areas with explosive materials.
Fieldbus connection to production process ASI\PROFIBUS\CAM OPEN\DEVICE NET.
---
---