---
MR/GST 2K – 4K IGBT_DI
Cap sealer model MR/GST 2K-4K IGBT_DI (Water cooled) - Induction Cap Sealing system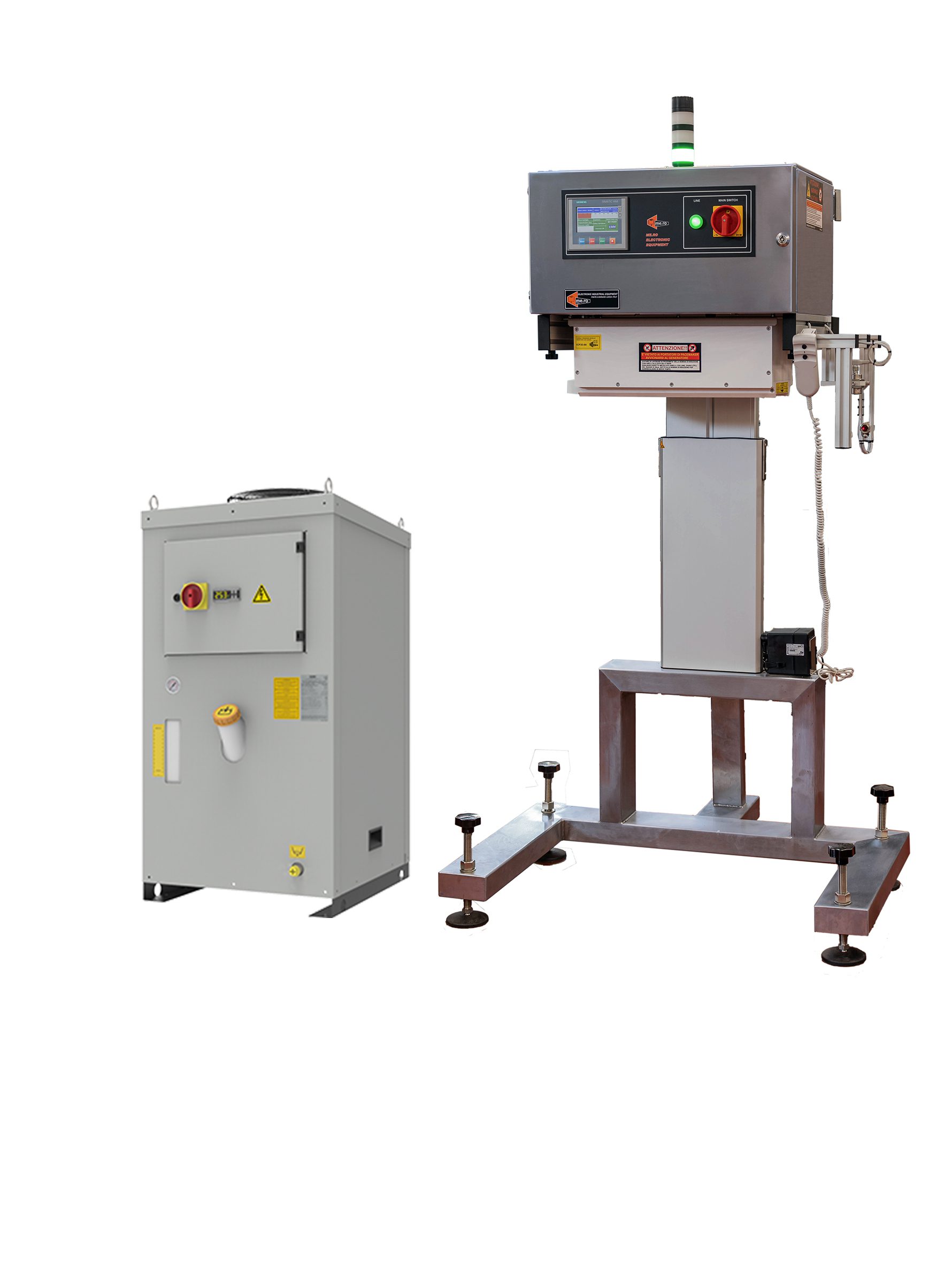 More than 500 installations around the world make this cap sealer model a champion of absolute reliability for any kind of application. The cap sealing system is dimensioned for applications of medium-high speed (until 15.000 bottles/h) and it is available with various induction heads to solve sealing problems starting from little mouth diameters (20 mm) until containers with big openings (120 mm).
MAIN CHARACTERISTICS
Water cooled induction coil.
Compact construction for easy installation on existing filling lines.
High sealing performances until conveyor speed of 35 m/min due to the special design of the induction heads.
High efficiency thanks to the configuration of the power circuits and the use of IGBT modules.
Possibility to seal cap diameters between 20 and 120 mm of any shape.
Digital Control of the electronic generator. PLC + Touch Screen HMI. Menu setting of all analog/digital working magnitudes controlling the electronic generator.
Panel Setting: Setting the Display Language, Password to access the operation parameters of the electronic generator, Date and Time setting.
Start-Stop remote control.
System of the V.Induction Coil regulation proportional to the speed of the conveyor belt (only with automatic speed mode).
V.Induction Coil Variation [%]: Acoustic signaling light in case of a variation (+/-) of the voltage V.Induction Coil from the pre-set value.
N°2 V.Induction Coil control modes: Manual [%] and Automatic Speed.
Alarm History. Display and storage of all the alarm occurred during production.
Quick production change thanks to the motorized variable height column.
Output power strictly constant due to the regulation circuits.
Separate counter of the sealed bottles and ejected bottles (no sealed).
Construction according to european directives EN-60204-1 , 2014/30EU (LV) and the 2014/30/EU (EMCD).
OPTIONALS
Aluminium Foil Detector.
Anti accumulation device (RAC system).
Pneumatic Ejector system Pressurized version for installation in dangerous area.
Profinet® interface for remote controls and supervision.
Variable Height Pillar (motorized) made in aluminium profile or stainless steel.
Cocked Cap Detection Base of the pillar with wheels.
---
---