---
MR-CS 600
Cap sealer model MR/CS 600 (Manual System) - Induction Cap Sealing system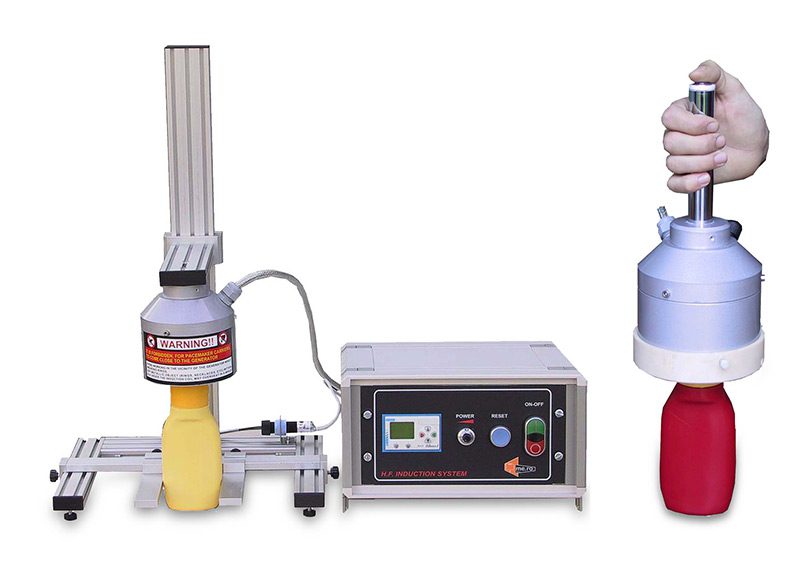 With static sealing, the container to be sealed must be centred under the induction coil after setting the sealing time and the output power.
The sealing process will then be activated by:
a Start pulse from a photoelectric cell only when the container is detected to be in the correct position for sealing;
the Start push button on the operator's panel;
a remote control;
the push button situated on the coil handgrip (manual positioning of the induction coil on the container)
If the containers to be sealed have screw caps, they only require to be centred at a certain distance from the induction coil. If they do not have srew caps, pressure must be applied to the seal to be welded with the coil being moved pneumatically.
MAIN FEATURES
Portable, compact, air-cooled generator
Excellent performance due to power circuit configuration and the use of special Power Mosfets (>90%)
Fine adjustment and uninterrupted output power
Absolute stability of output power settings
Sinusoidal output wave-form
Digital timer for control of sealing time
Control, display of working sizes and alarm signals by PLC
Alarm signal in the event of faults or variations in output power
Remote-controlled Start – Stop
Sealing area 20 – 120 mm.
Manufactured in accordance with EN-60204-1 standard
Electromagnetic compatibility (EMC) in accordance with EN-55100 and EN-50082-2 standards
OPTIONALS
Induction coil support columm
Photoelectric cell for automatic Start
MR-CS 600 Sealing Testing Procedure
---
---